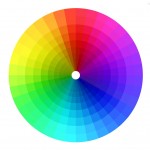 Color.  It plays an important role in design, branding and our everyday lives.
Color affects us.  It affects our emotions, our heart rate, our choices.
PBS released a mini documentary in its Off Book series entitled "The Effect of Color" [included at the end of this blog post].  The 7-minute video produced by Kornhaber Brown features color experts Thomas Bosket of Parsons The New School for Design, Leslie Harrington of Color Associate, Doty Horn of Fashion Institute Technology and representatives of www.mr-gif.com.
3 Main Takeaways from "The Effect of Color" Documentary

1. Color affects us physiologically and psychologically, soulfully and mentally

2. The 3 Types of Color Associations:

-Universal

Often physiological: When in a red room, our heart rate increases, we talk more and eat more. When on the red carpet, we walk faster.

-Cultural

Often a learned response

-Individual

Connected to our experiences

3. Economic, social, political, technological and environmental influencers drive the ebb and flow of color trends throughout history.  For example, during an economic downturn, people gravitate toward colors they perceive as safe.
Color in Your Branding
When creating your own personal brand, freelance business, or start-up company, consider your color choices carefully.  In The Effect of Color documentary the point was made that when you choose to wear a color, you are saying to the world, "This is me because I'm wearing this color."  The same goes for your branding.
Color Affects Your Potential Clients
The colors of your logo and marketing materials will affect your potential clients.
Recognize how your potential clients universally and culturally associate with certain colors.  Unless their experiences are closely related to yours, cut out what you individually associate with a color.  (e.g., The color yellow may only make you think of your grandmother.)
Look at the colors of the branding your target audience is already respond to.  Are they responding to colors that are calm? Colors that convey luxury?  Funky, uncommon colors?  Safe colors? A certain combination of colors?  How do your consumers react to the simplicity or boldness of black & white?
One of the guys from Mr. GIF stated that, "You can make anything as long as you make it look intentional."
Countless resources exist about the meaning of colors.  When searching in Google for "meaning of colors," 92,100,000 results come up.  Knowing that, do some research, notice what your potential clients are responding to, play around with different colors, ask people you know in your target audience specific questions about the colors you are considering, and go from there.
E-mail Me for Color Advice
If you'd like my opinion on possible color choices, then e-mail me: angela@definingsuccesscoaching.com.  After all, I did my honor's thesis in undergrad on "The Effects of Color in Advertising Across Generations."
"The Effect of Color" Documentary